50-Year Reunion Plans
This page was formerly called "Our 50-Year Reunion." The page with that name now has photos and stories of our wonderful 50-year reunion. But we couldn't bear to delete this page, which we used to publicize the plans, so we renamed it as you see.
The Reunion Committee
Chairman & evening venues: Tex Zimdahl
Treasurer: Jim Ransom
Bus tour & school tour: Don Nickson
Walking tour: Lee Broad
Peoplefinder: Bob Stephen
Memorabilia: Bonnie McClure Miller, Pat McCarthy
Database, communications, & website: Jim Groh
Cheerleaders: John Norris & Susan Carney Van Hooser
Date and Location
Friday, July 11 to Sunday, July 13, 2014
Williamsville, New York
Who's coming
Judi Alaimo Mazziotti
Elva Anthony & Ed McGrew
Debby Bain Hengerer
Sara Baxter
Susan Bigwood Greenley & Alan Greenley
Lee Broad & Sandy Fink
Candy Bryant Cima & Greg Rudgers
Carol Butler Benford & Fred Benford
Paula Calabrese Buchholz
Mike Calandra
Susan Carney Van Hooser & David Van Hooser
Bob & Merrily Coe
Jim & Nancy Corp
Bob Croessmann & Lou Ann Elsaesser
Dolores Dean Iannetoni
Linda Durfee Koerner & Kurt Koerner
Dennis Edmiston & Andrea Carpenter
Sharon Evanz Dietzman
Jody Fall Jones
Paul & Eileen Frey
Sharon Gemerek Heim
Paul & Judith Graf
Lindsey & Margaret Grandison
Jim Groh
Paula Grosse Helfenstein
Susan Hall Polniaszek & Ron Polniaszek
Dr. Herbert Hochhauser
Ray & Ginny Hohl
Barbara Holls Sabal & John Sabal
Carol Hughes Decot & William Decot
Greg Karpick & Peggy Miller Karpick
Ken & Nedra Keller
Linda Kent Lyndon & Nicholas Lyndon
Jean Killian Brunner
Barbara King Lagoni & Hans Lagoni
Dick & Joan Knight
Betty Kohl Davies & Jim Davies
Connie Krueger
Chuck Lamb
John & Ellen Landon
Julie Liberatore Adinolfe & Joseph Adinolfe
Doug & Peggy Long
Maureen Mannes Shattuck
Barbara Marker Maneyapanda & Bidappa Maneyapanda
Anita Marrale Miller & Warren Miller
Pat McCarthy
Bonnie McClure Miller
Barbara Newell Ferrara & Ralph Ferrara
Don & Kathy Nickson
John & Katie Norris
Eric & Judy Parkinson
Ken & Rita Raczka
Jim Ransom
Deanna Risk Wheeler & Christopher Wheeler
Pete Sarver & Peggy Harper
Dick & Mary Ann Schutt
Beverly Senn Smith
Harvey & Joan Goslin Simmons
John & Dorothy Sogn
Bob Stephen & Linsey Constantino
Matt Stiling
Beverly Stone Miller & Edward Miller
Sue Tuyn Wick & Philip Wick
Gordon Ulrich
Jerry & Diana Villa
Gelene Vogel Heinlen & Dan Heinlen
Tex & Susie Zimdahl
Have sent their regrets and best wishes:
John Berry
Dennis Conrad
Lora Hardt VanDeMark
Fred Hultberg
Dennis Jones
Katie Kryder Ford
Ted Keller
Jo Ann Lines Smith
Bob Maslona
Dick Noble
Barbara Penney Conrad
Bob Petko
Doug Risk
Susan Sweeney Kirby
Ron Urban
Deborah Wells Goergen
Linda Wincenc Dobkin
Schedule
Friday, July 11
During the day: Enjoy Old Home Days in Island Park.
6 PM: Adjourn to the Eagle House. We've reserved a room upstairs.
Cash bar and hors d'oeuvres. $10 per person.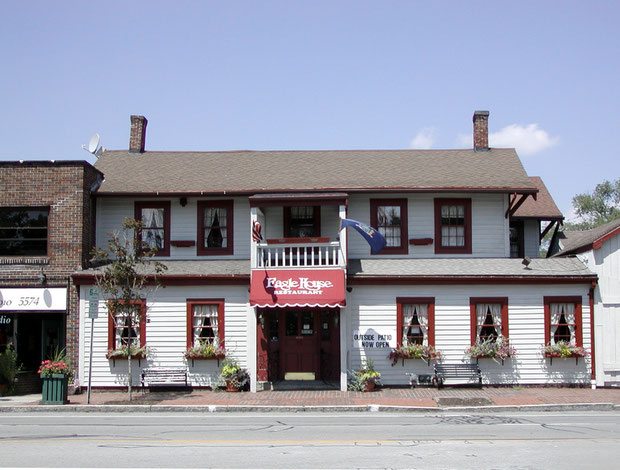 Saturday, July 12
10 AM: A tour of the school. Kevin Lester, long-time teacher and Athletic Director, will take us through the school. He has extensive knowledge of the history and changes to the building over the years. Meet in the main entrance hallway. If you have any questions or problems, call Don Nickson on his cell phone: 518-527-2562.
1 PM: A bus tour of Buffalo architecture. Sold Out. We reached the maximum of 42 participants. With your registration below, let us know if you want to be on the waiting list.
Note for those who paid: The fee you paid includes the tip.
The Whirlwind tour on the Open-Air Autobus of Buffalo is professionally guided by the not-for-profit organization, "Campaign for Greater Buffalo History, Architecture, and Culture." See works by Frank Lloyd Wright, H.H. Richardson, and Louis Sullivan, as well as other grand civic architecture, historic districts, and the terminus of the Erie canal. Go to http://www.openairbuffalo.org to see the bus and last year's activities.
We'll meet at the Central Wharf, Prime & Lloyd Street, near the Erie County Naval & Military Park. Parking is available at the All-Pro lot at 50 Exchange Street for $5 for 12–4 PM. For detailed directions, download and view the document below.
6 PM: Dinner and cocktails (open bar) at the Hotel Lafayette, 391 Washington Street, downtown Buffalo at Lafayette Square. Plenty of parking is next door or within a few blocks. $50 per person.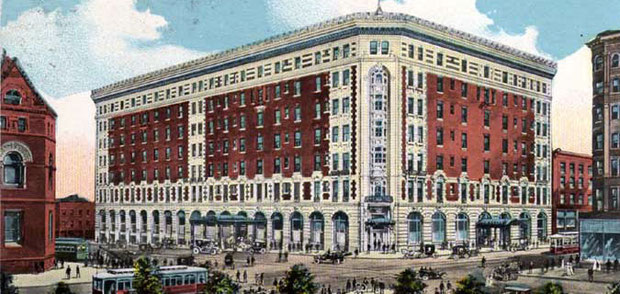 Historic Hotel Lafayette, Lafayette Square, downtown Buffalo
Sunday, July 13
Late Morning: Brunch at our hotel, probably the Wyndham.
Afternoon: An activity to be determined; possibly a tour of Williamsville.
Registration and Payment
Please mail your registration and payment to:
Jim Ransom
c/o FMSI
1720 Windward Concourse, Suite 200
Alpharetta, GA 30005
All prices are per person.
Please make your check payable to "Williamsville Class of 1964."
Please download, print, and mail the registration form (Reg Form.pdf) with your check.
NOTE: Please don't buy tickets or anything else from Alumniclass.com.
We also have a report of poor quality swag from them (a hoodie).
Lodging for Out-of-Towners
A block of rooms has been made available for us at the new Wyndham Garden Hotel in Williamsville. Call the Wyndham directly at 716-276-9600 to reserve a room. Tell them you're with the Williamsville Class of 1964 reunion.
For any lodging, act soon, as Western New York has a vigorous summer tourist season, and rooms book up and/or get expensive.